Cat Island offers some of the most ideal spots for bonefishing in the Bahamas.  Local bonefish guides are available, if you like, to point you in the right direction, or DIY Anglers can quietly stalk these elusive bonefish by wading through knee-deep water in many spots on Cat Island.  These quicksilver fighters, weighing up to 15 pounds, inspire both fly fishermen and spin casters alike with their power and speed.  Easy access to flats make our homes. and Cat Island, an ideal spot for bonefish.

Bonefish are unpredictable and wily.  The bonefish on Cat Island are often found in schools of 50 or more, making for exciting bursts of action.  It's exciting to see bonefish 'tailing' at low tide.

With Bennett's Creek leading to Alligator point just up the beach, you'll have miles of wadable bonefish flats, right outside the patio door.   This is the perfect spot as your home base for bonefishing  Cat Island, Bahamas.

At the top of 206ft, Como Hill is Mt. Alvernia Hermitage on Mount Alvernia, the highest point in The Bahamas. This small stone monastery built by hand by the architect hermit, Father Jerome, is at the peak and is worth the trek up this steep rocking incline, as well as the awe-inspiring view.

In 1939, at age 62, Monsignor John C. Hawes came to Cat Island.  Father Jerome, as he was known, was a priest, architect, philosopher, poet, essayist, sculptor and collector of architectural treasures. He came to Cat Island to seek solitude and self-imposed poverty. His role model was St. Francis of Assisi.

When Father Jerome arrived on Cat Island, he bought the highest hilltop he could see. It was called Como Hill, and is, in fact, the highest hill in the Bahamas (206 feet) with a 360° view of the island. Before he died at age 80, Father Jerome hand built this child-size Hermitage out of native rock, which included a bell tower, chapel, bedroom, two fireplaces, a cistern, and the Stations of the Cross.  He hand laid steps up a 50-degree incline and built his own tomb.  He was called "The Great Heart of Cat Island". 


There are contrasting shorelines in Cat Island.  The island's north side is wild and untamed while the southwest side, facing the Great Bahama Bank, is most often placid and serene. The diving varies from shallow, protected reefs to dramatic deep coral walls. 

Top Dive Locations:
​ First Basin Wall: 100-200ft. Facing the Great Bahamas Bank is a spectacular deep water drop-off.  Its proximity to the deep ocean provides many encounters with schooling jacks, Eagle Rays and, occasionally, sharks.

Blue Hole:  80-100ft.  Out on the bank is a magnificent Blue Hole. Inside the opening divers often encounter schools of fish, large groupers and Caribbean Reef Sharks. White Hole Reef expresses another phenomenon peculiar to The Bahamas: circular depressions in the limestone basin that form flat basins surrounded by coral mounds. These sites serve as an oasis for solitary reef and schooling fish. 

White Hole Reef: Circular depressions in the limestone basin surrounded by coral mounds

The Tunnels: 30ft. The Tunnels can be reached from the beach. They begin in very shallow water and descend through a series of crevices, canyons and fissures to a coral garden

Third Basin Reef: Wall 110-130ft. Nearly vertical drop-off with giant sponges and black coral bushes

Santa Maria Teresa: 20-30ft. 360-foot Spanish battleship sunk in 1898 during the Spanish American War.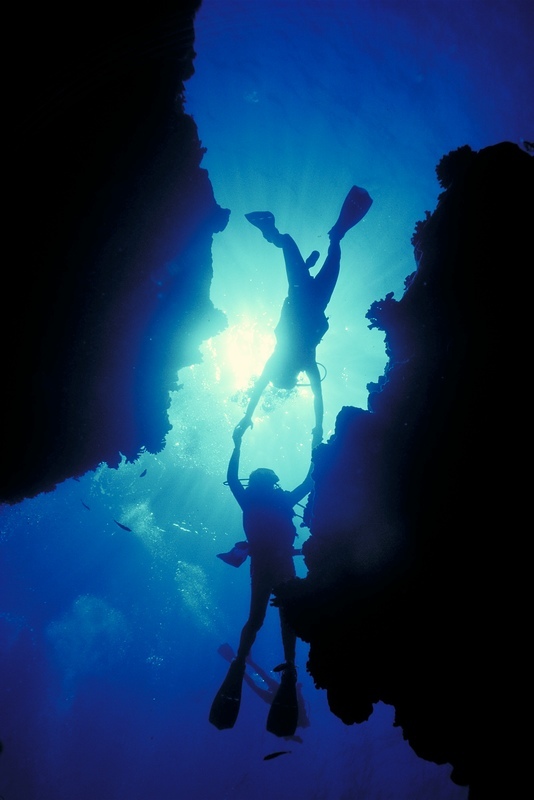 Sea Kayaks and Snorkeling

With Bennett's Creek just 200 yards away, you'll have miles of protected waters to explore.  Bennett's Creek is home to fish of every shape and ​color, as well as amazing birds and endangered sea turtles.  Grab a lunch  on one of our kayaks or paddle boards,  and make your way to Alligator Point or one of the isolated sand beaches along the way.  Be sure to bring a fishing rod or snorkel. 
Visit the Ruins of Plantations or Explore the Bat Caves

Down South near Devils Point are the impressive ruins of the Richman Hill plantation, with ruins of slave quarters, an overseer's house and a plantation house. The original plantation stretched from the ocean to the inland lake.   Another interesting ruin is Colonel Andrew Deveaux' mansion at Port Howe.  Granted land on Cat Island for delivering Nassau from the Spanish, he set up a briefly prosperous cotton plantation here.   Less scrupulous early settlers in Port Howe, lured ships onto the rocks in order to loot their cargoes. 
Bat caves can be found in many places on the island.  The easiest to find is located right along the side of the road South of The Bluff.  Once through the opening, you will be surprised at the size of the cave.  Many of the bat caves on the island were once hideouts for slaves and used as protection during storms.